Dear Editor...
I rolled out of bed today, made coffee and opened the paper and Behold! The following stupidity: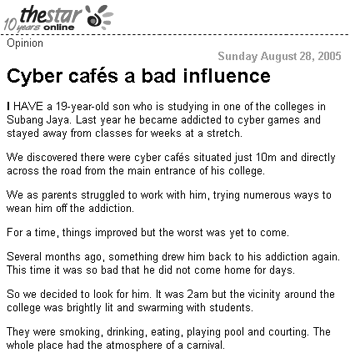 Full article here.
I mean come on, why can't some people simply admit they are poor at being parents and stop blaming others? So anyway, I'm writing the following rebuttal, any input is appreciated before I mail it off tomorrow.


Dear Editor,

I write in protest of CONCERNED PARENT's letter titled 'Cyber cafés a bad influence' which appeared on your sheets on Sunday August 28, 2005.

I find it most contemptuous that people would rather blame the failures of their children on others rather than on their own lack of parenting finesse.

As a recent college graduate, I must admit that I too enjoyed cyber games and was a patron of cyber cafes during the day. I admit I, along with my peers, have on occasion stayed up till the early morning indulging in what is basically a more animated and immersive version of chess. But I didn't fail college, nor do I have a record of being involved in violent altercations, which CONCERNED PARENT would allege patronising Cyber Cafés causes.

Having said that, I concede that we face a serious attention deficit problem where some students would rather focus on other activities instead of their studies. However, it is irrational to squarely blame cyber cafes for this social problem. After all, the student could have easily been addicted to other activities such as Basketball, X-skating or Football and become as negligent in his studies.

I urge everybody, especially parents who are facing such issues with their children to slow down with the assigning of blame and take a long hard look at their situation. Consider that maybe the course they made their children take is of no interest to their children or their children simply aren't academically inclined and may do better pursuing a different path in life. Or as harsh as it may sound, it may simply have something to do with their upbringing.

Thank you.

Yours truly,
Nicholas C

Also if any of you out there feel as strongly as I do on this issue, please write your say to The Editor. Details Here. Please act now before they start thinking about banning CyberCafes also.